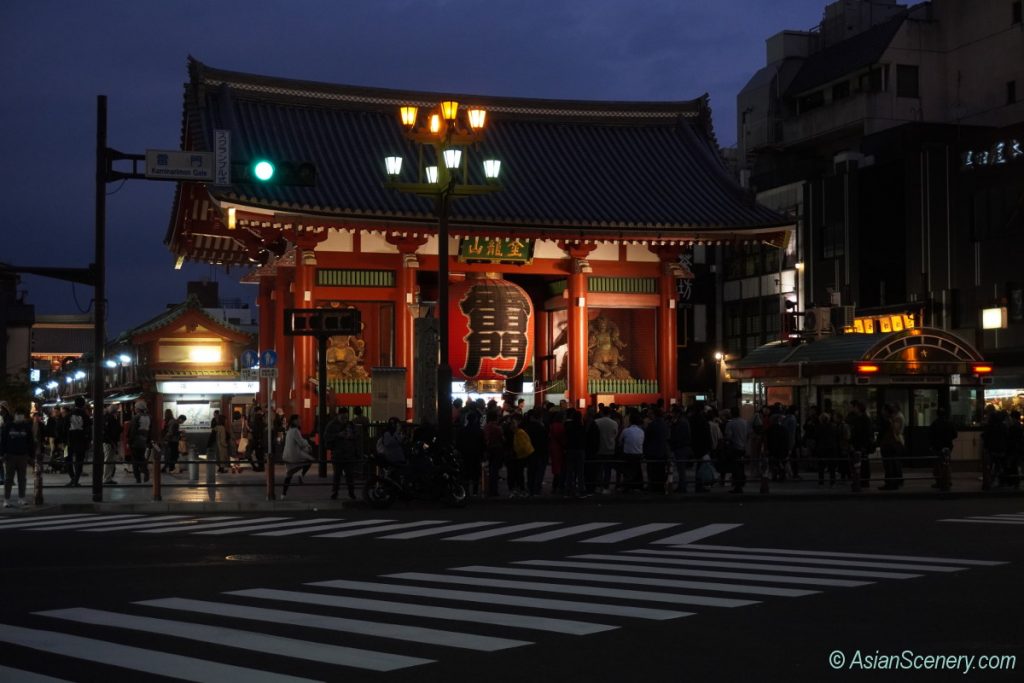 Asakusa is one of the most popular spot in Japan for foreign visitors. And Sensoji temple and Nakamise-dori is the highlight of visiting Asakusa area because its atmosphere has "Japan Taste" very much. To visit Asakusa temple, it is the typical route to go to Kaminari-mon first.
浅草は日本を訪れる外国人観光客に格別に人気のある場所です。そして、浅草寺や仲見世通りは、浅草観光のハイライトと言えるでしょう。なぜならそれらは、日本的風情をとても持っているからです。浅草寺に行くには、まず雷門に行くのが典型的なルートです。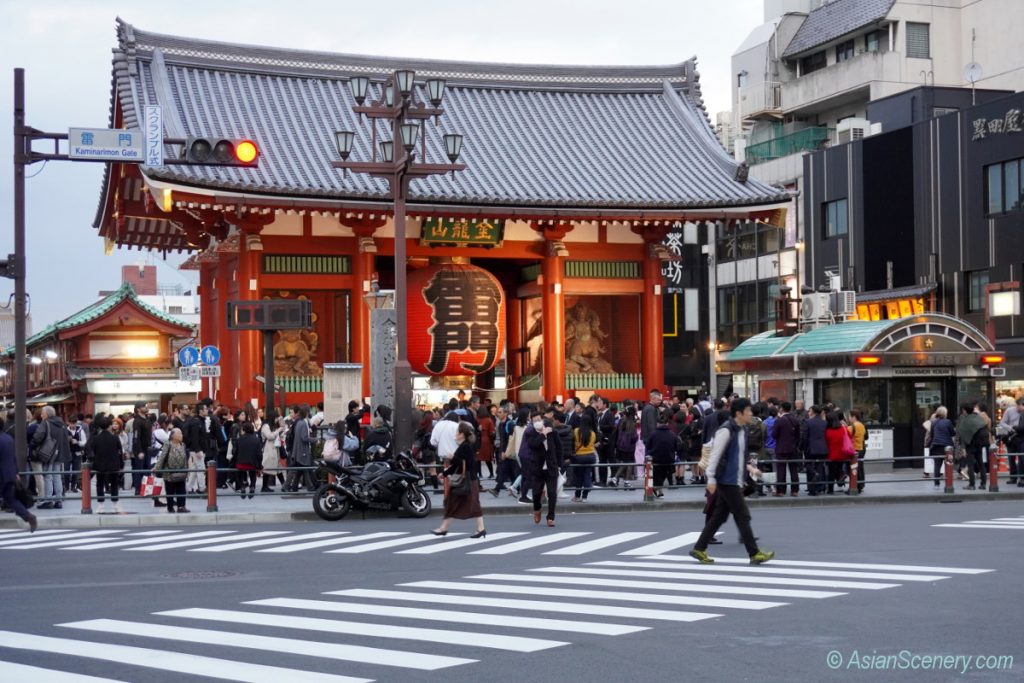 Kaminari-mon is itself photogenic place and it is always crowded around there, but when you see Kaminari-mon, just take a look right hand side. You can see "Tokyo Sky Tree", a fairly new Japanese monument which was built in 2012.
雷門それ自体が写真映えする場所で、常に混雑していますが、雷門に着いたときは、ぜひ右側も見ておいてください。2012年にできた日本の新しいモニュメント、「東京スカイツリー」が見られます。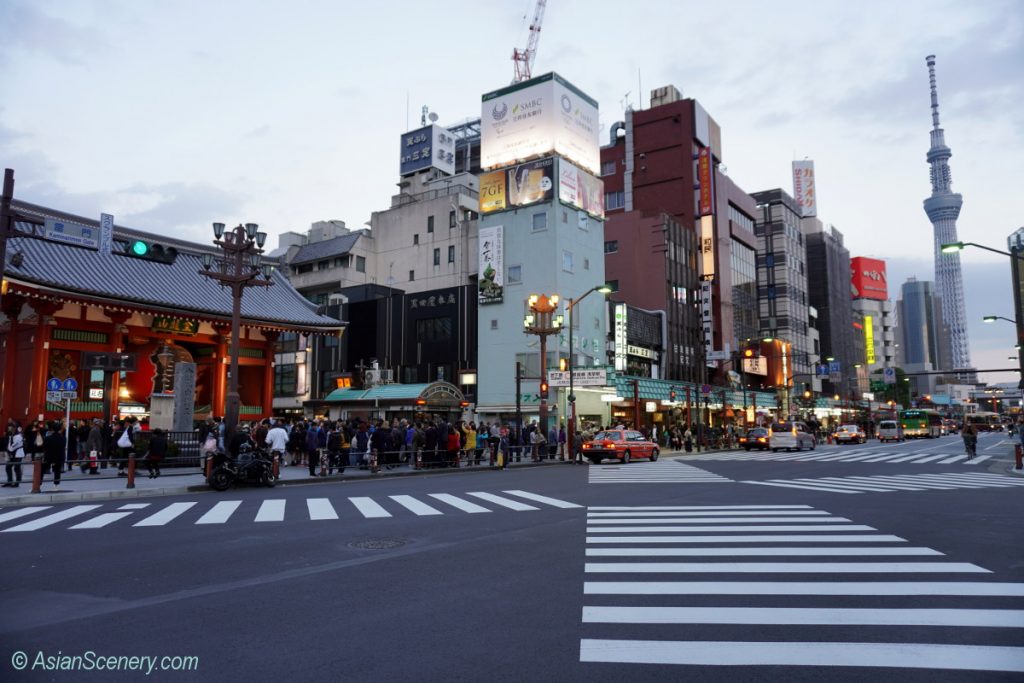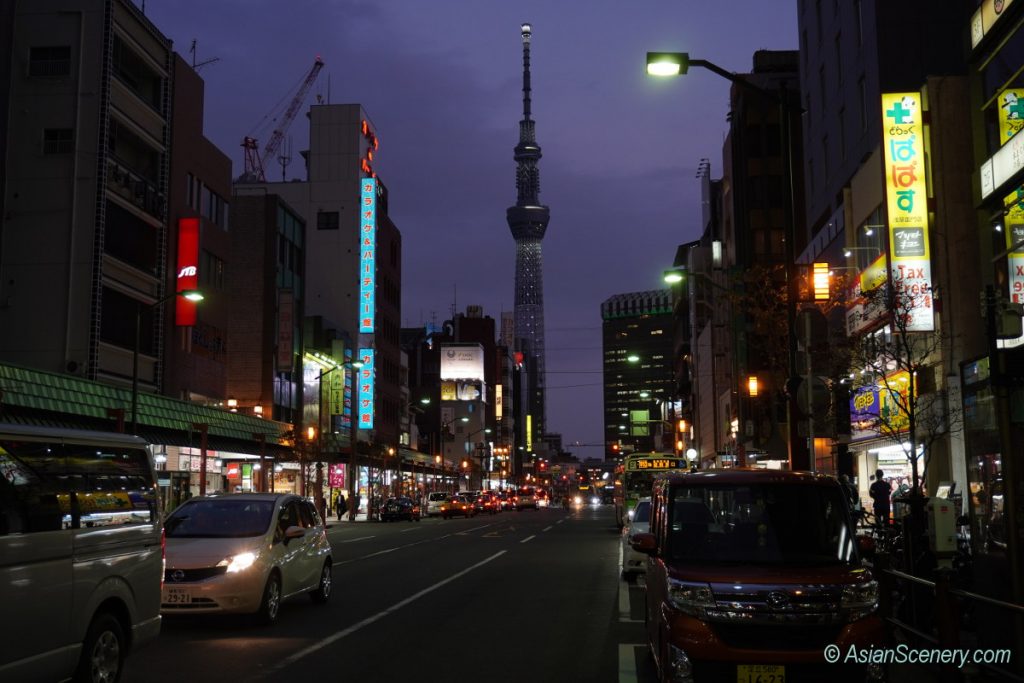 And there is a straight approach filled with lots of quaint shops between Kaminari-mon and Sensoji temple, which name is Nakamise-dori.
そして、雷門と浅草寺の間には、数々の趣のあるお店が並ぶ参道があります。そう仲見世通りです。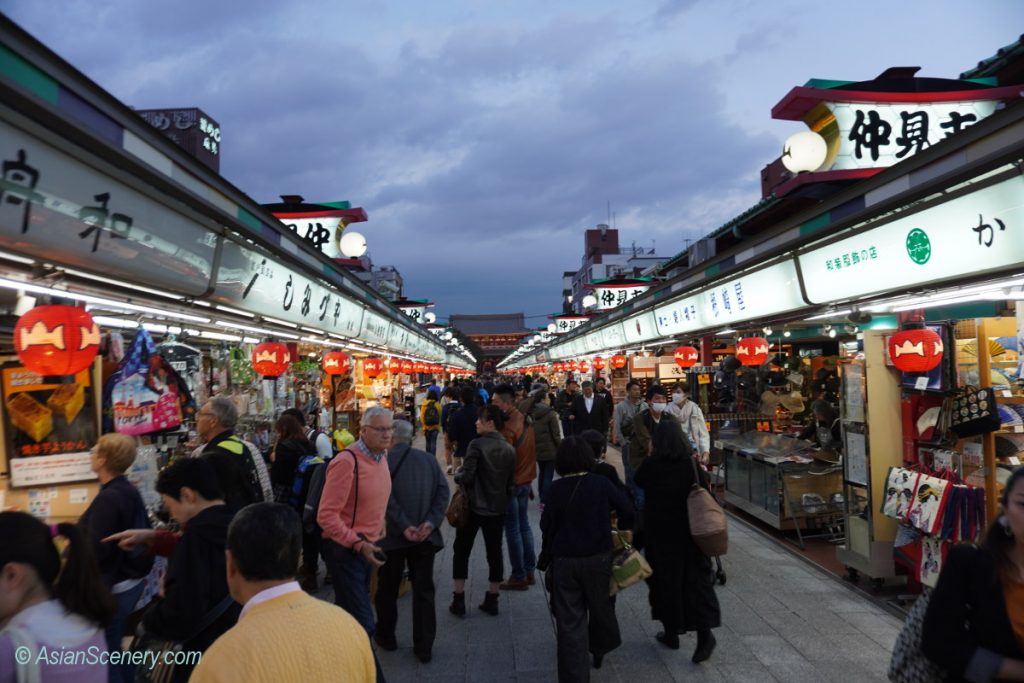 Even for us Japanese, it is a fun to look around various Japanese taste souvenir / fast food shops.
我々日本人にとっても、和のテイスト満載の様々なお土産屋、食べ物やを見ながら、ぶらぶら歩くのは楽しいです。
After enjoying the shopping/walking through Nakamise-dori, you will arrive at the entrance of Sensoji temple, which name is "Houzou-mon".
仲見世通りの散策・買い物を楽しんだ後、浅草寺の入り口に到着します。「宝蔵門」です。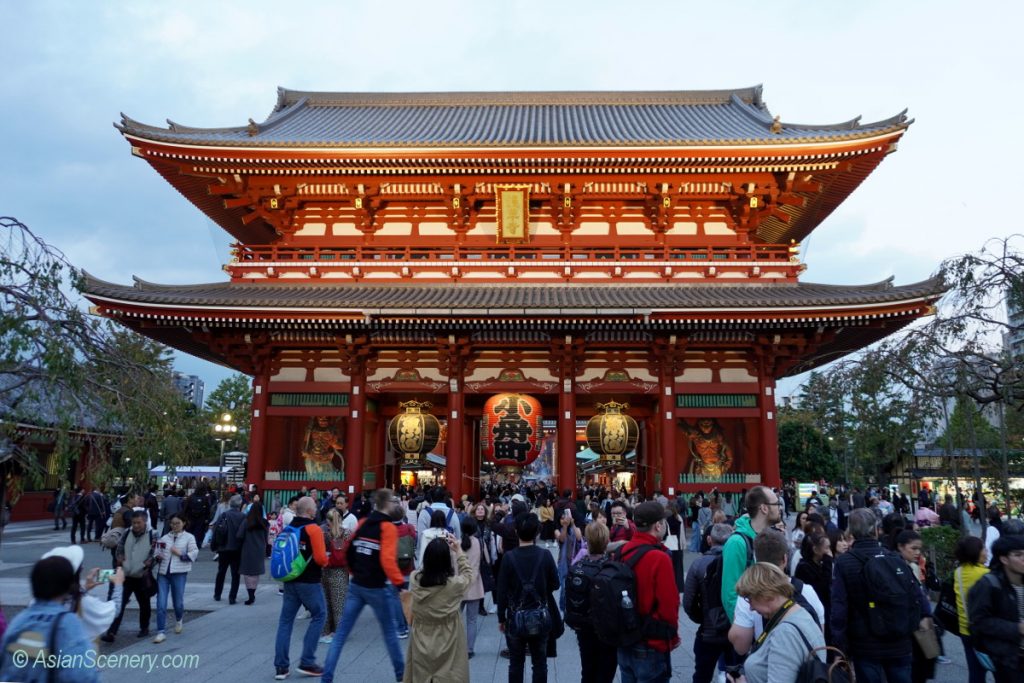 "Hozou-mon" means the gate which keeps various treasures. Its name used to be "Niou-mon". "Niou" is the name of a Buddhist sacred muscular guardian. There are two Niou guardians on both sides on this gate.
「宝蔵門」とは宝物を収蔵する門という意味です。かつてはこの門は「仁王門」と呼ばれていました。仁王とは筋肉隆々な今後力士像。この門の両側には一人ずつ仁王が安置されています。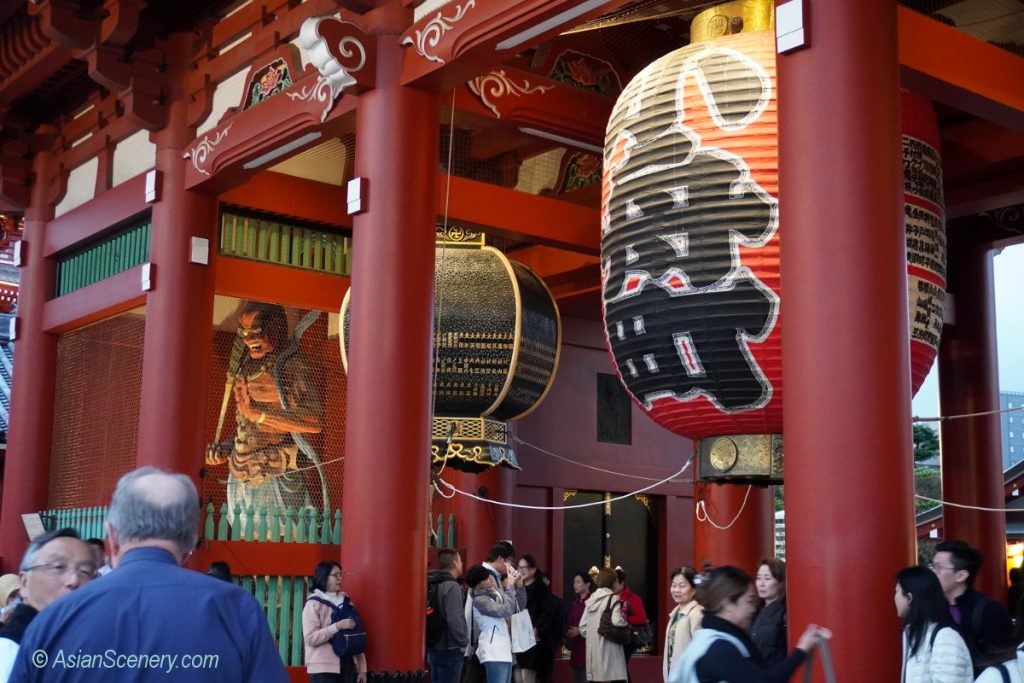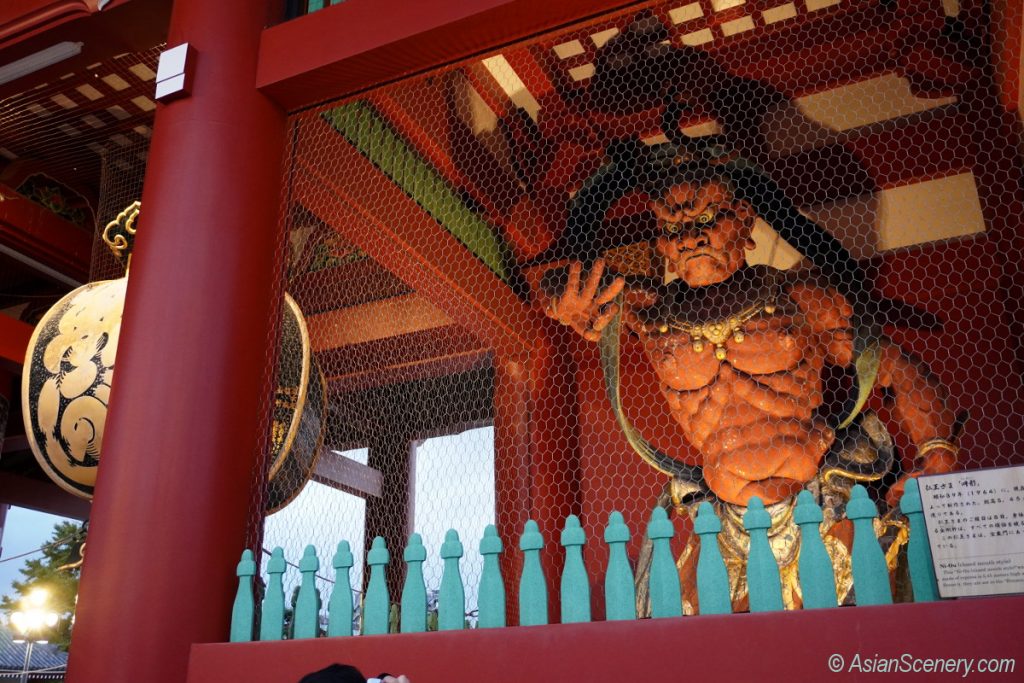 After walking through this Houzo-mon, you can see nice view of Sensoji temple
宝蔵門をくぐったら、浅草寺の素晴らしい景観が見られます。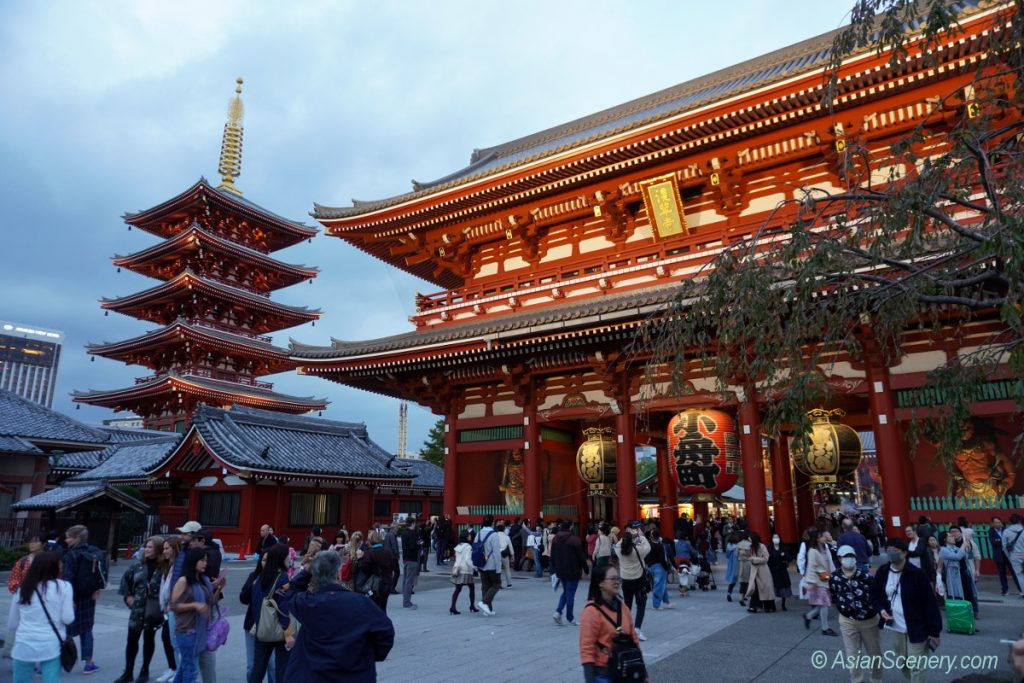 It is also nice to have a dinner in Asakusa area. There are lots of nice and exotic restaurants around there. Asakusa is worth visiting for everybody.
浅草で食事をするのも乙なことです。情緒あふれるレトロテイストなお食事処がたくさんあります。すべての人にとって、浅草は訪れるに値する街です。