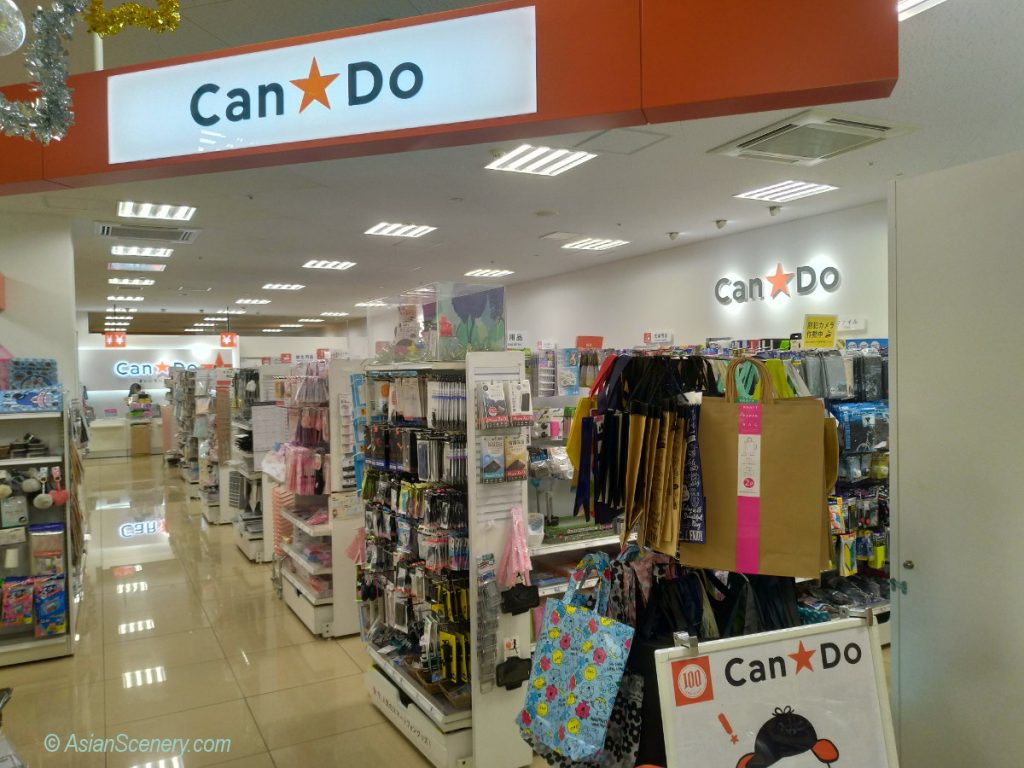 "100 yen shop" is very unique business which is recognized that it is originated in Japan around 1985. Basically the price of all the goods sold there was 100 yen. The business style was also called "One Coin Shop" because there was no consumption tax in Japan then. People could purchase goods there with only one 100 yen coin at that time. Now the consumption tax rate is 10%. So actually the price is 110 yen and we need 2 coins for one purchase now, but we still call the shops "100 yen shop".
「100円ショップ」は 1985年頃、日本で始まったとされる非常にユニークなビジネスです。そこではすべての商品が原則 100円でした。当時の日本では消費税がなかったため、そのスタイルは「ワンコイン・ショップ」とも言われました。当時は100円玉1つあれば、そこで買い物ができたのです。今や消費税は10%。したがって、現在では購入価格は 110円であり100円玉と10円玉が必要です。しかし、今でも「100円ショップ」と呼ばれ続けています。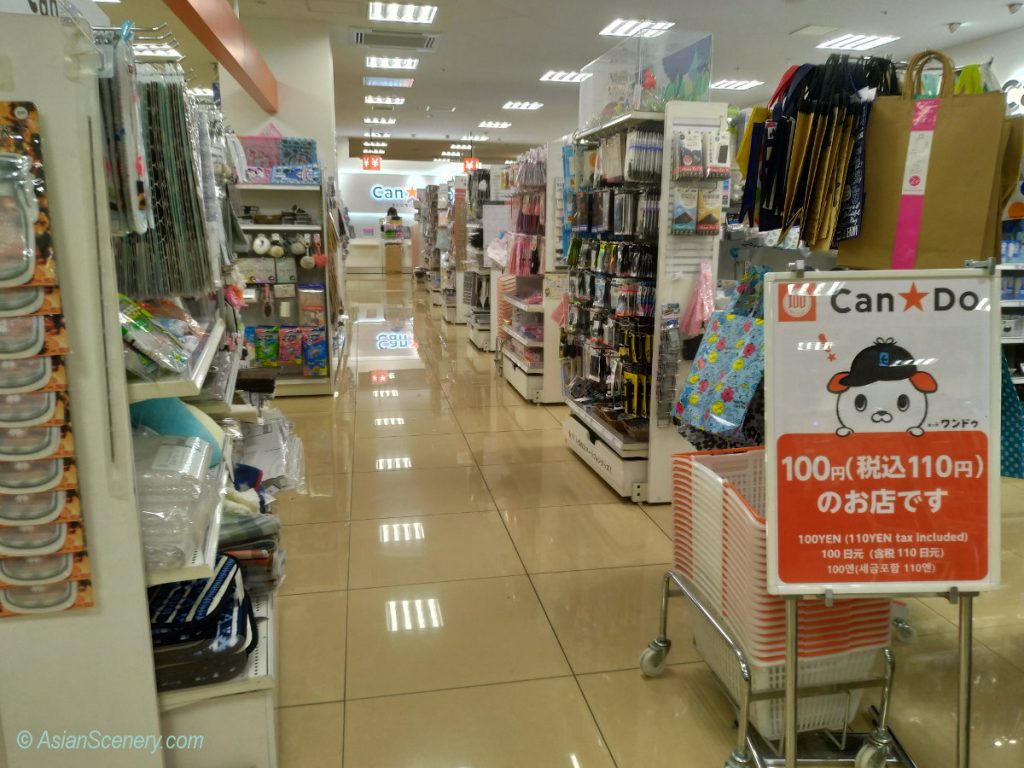 I think the innovation of the 100 yen shop is the combination of "striking low price" and "the quality". It is people's general understanding that the good's quality is low if the good's price is low, but the 100 yen shop business destroyed that stereotyped prejudice. Now everyone in Japan recognizes the goods sold in 100 yen shops has adequate quality, usability and durability, even if they are not luxurious.
私は、100円ショップの革新は「激安と品質の両立」 だと思います。通常我々は価格の安いものは「安物」(低品質)だと考えますが、100円ショップはその固定観念を見事に破壊しました。今や日本人のほとんどが、100円ショップの商品は、高級とは言えないまでも、十分な品質、使い勝手、耐久性を備えていると認めています。
Let me present one example with me. I bought this mug cup about 3 years ago at "DAISO", one of major 100 yen shop chain store in Japan. It has a special price, 200 yen ($1.83 USD) in the store. The mug cup is "Double Wall stainless steel with stainless steel rid". I have used it every day, and I totally satisfied with it. If I buy this mug cup at a outdoor goods store, it will cost more than 10 dollars.
私の購入品で一例を紹介しましょう。これは私が「ダイソー」(100円ショップ)で約3年前に購入したマグカップです。価格はその店では特別価格の200円。しかし「ステンレス二重構造でステンレス製の蓋付き」。毎日利用しており、この商品には完全に満足しています。このマグカップをアウトドア用品店で購入したとしたら、10ドル(1,200円)は下らなかったでしょう。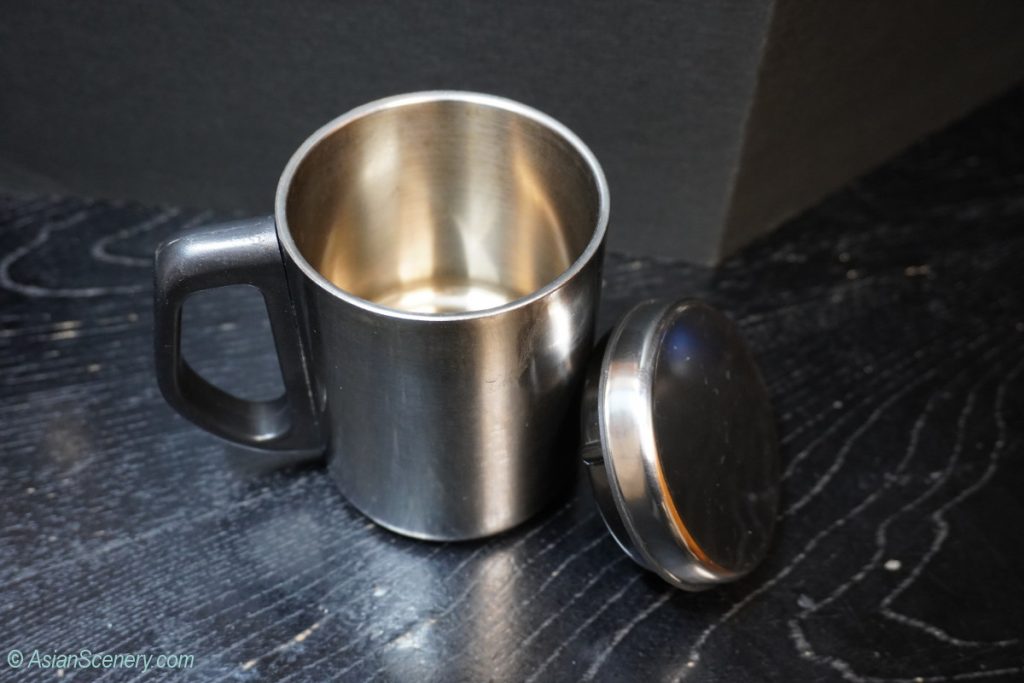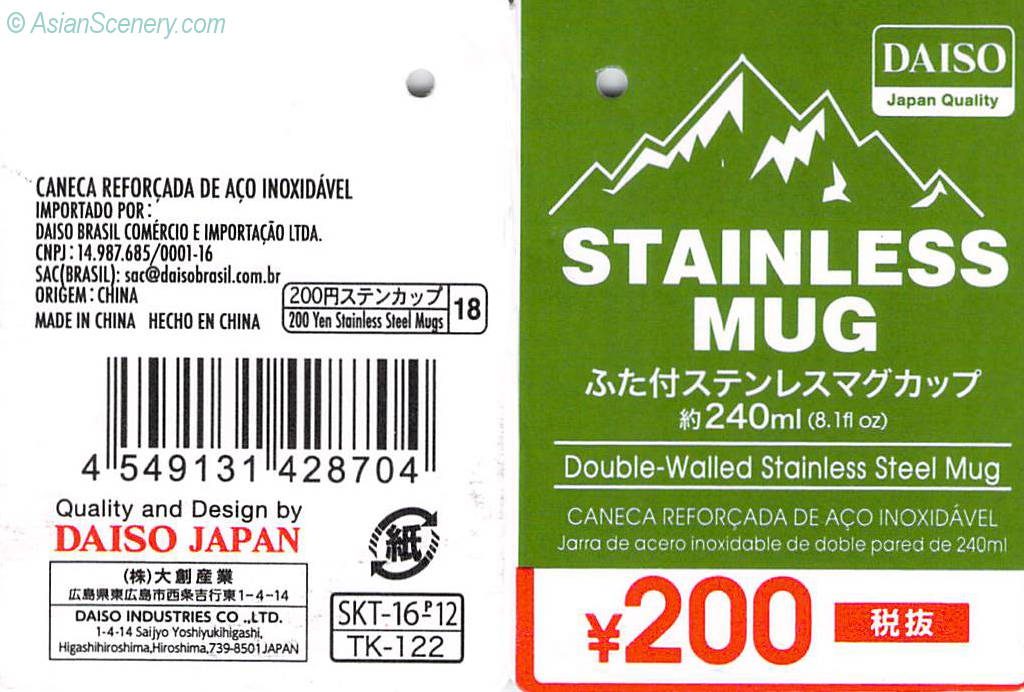 Now they carry lots of things such as stationary, storage, almost all other than big sized things and fresh foods.
現在100円ショップは、大きな商品や生鮮食料品以外の、多くの商品を取り扱うようになりました。
So "100 yen shop business" greatly succeeded in Japan. And now we can see many 100 yen shops all over the world such as DAISO.
100円ショップビジネスは日本で成功し、今やダイソーなど、多くの100円ショップを世界各国で見ることができます。