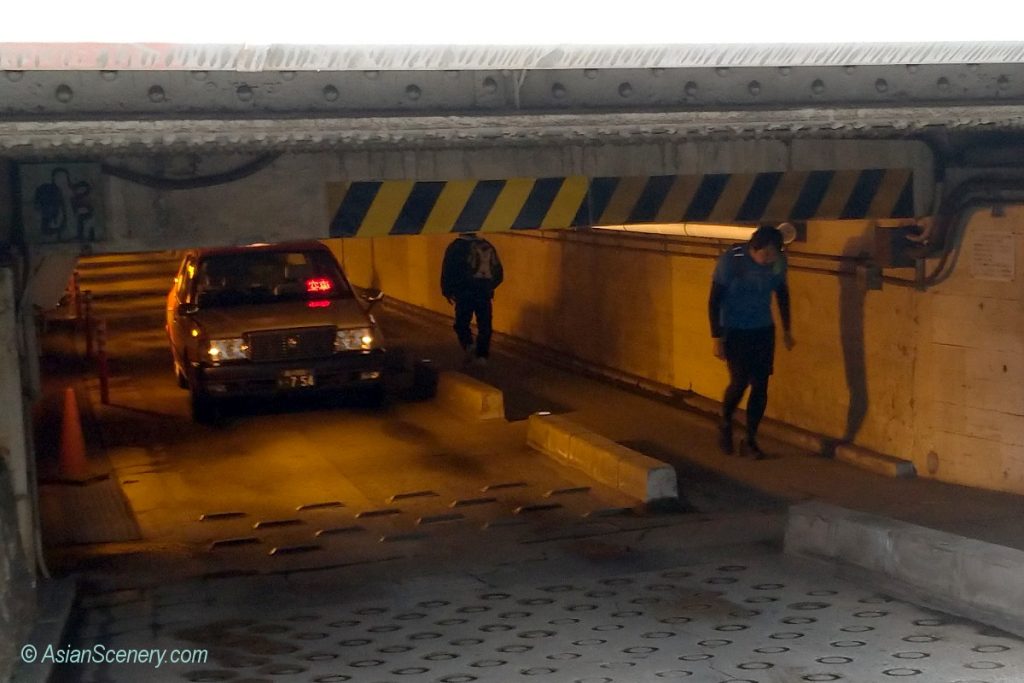 Most central areas in Tokyo are filled with modernized buildings and few structures have design problems. However, here "Takawana Guard (underpass)" is one of the rare spots with a mysterious structure that I know.
東京の都市部の多くは先進的なビルに埋め尽くされ、設計上の問題がある構造物はほとんどありません。しかし、ここ「高輪ガード」は私が知っている不思議な構造を持つ数少ないスポットの代表格です。
The reason this Takanawa underpass is famous is its low ceiling. Vehicles over 1.5m height are not allowed to pass.
この高輪ガードが有名な理由は、その天井の低さです。全高1.5mを超える車両は通行することができません。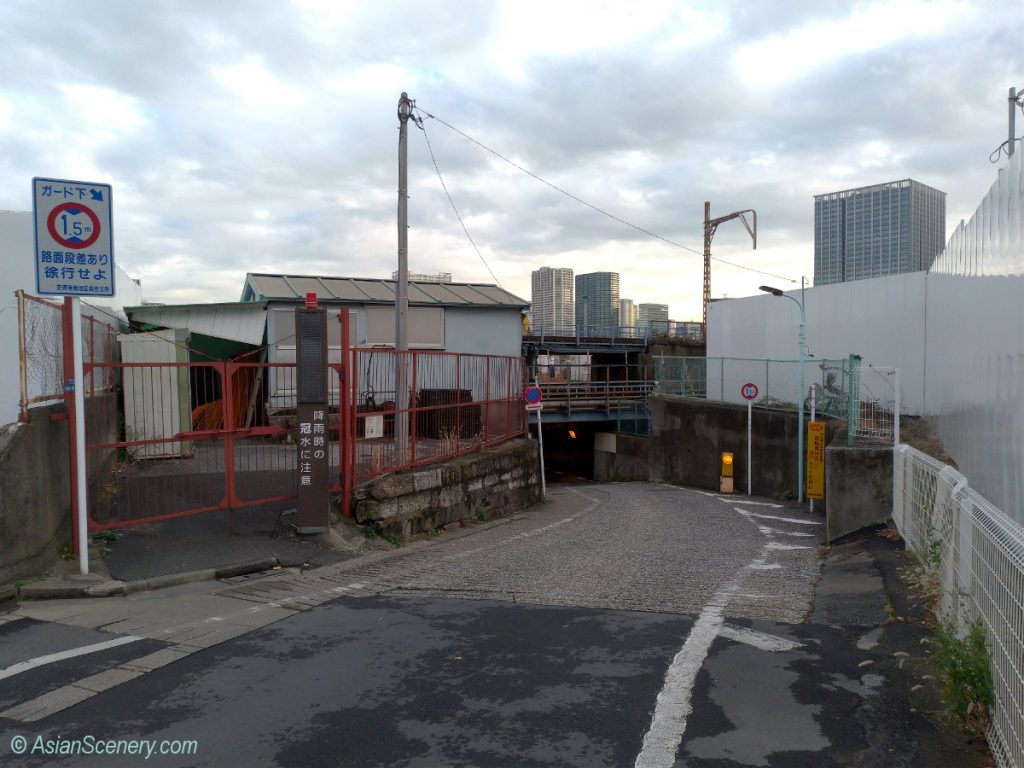 The location of this underpass is between Shinagawa station and Tamachi station. The length of this underpass is about 200m to pass various major train track such as Yamanote line, Keihin Tohoku line, Tokaido line, Yokosuka line and Tokaido Super Express. It is impossible to make a railway crossing to cross such area. So they built underpass to connect the sea shore and Takanawa area.
このガードはJR品川駅、田町駅の中間地点にあります。ガードの長さは、山手線、京浜東北線、東海道本線、横須賀線、東海道新幹線という主要路線を超える必要があるため、200m もあります。ここを踏切を作って道を渡すことは不可能であるため、ガードを作って海岸線と高輪を繋ぐことになりました。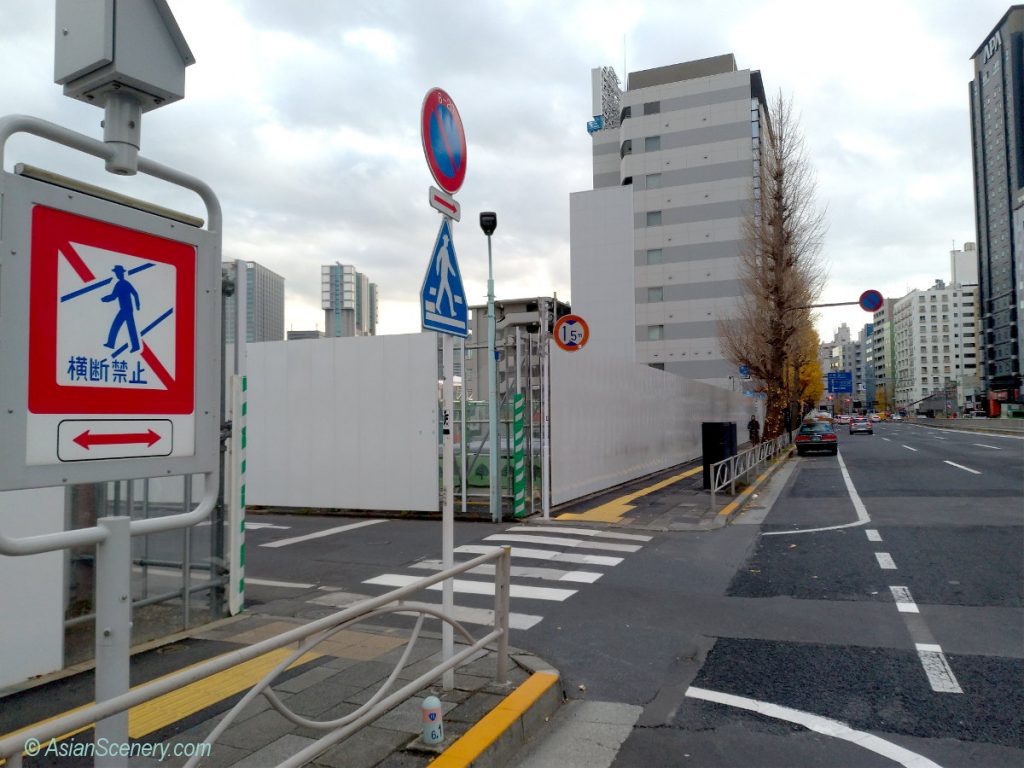 However, because it is near the coast, it has a great risk to build a road deep underground because the seawater could easily cause flooding the road. So the road constructor set the height limit of 1.5m and made a way just under the railroad track with some compromise.
しかし、ここは海岸近くであるため、地下深く道路を作ると、海水が押し寄せ、道路が水没する危険が生じます。そこで、止むを得ず、高さ制限を 1.5m として、線路の下をギリギリくぐる道を作ったのです。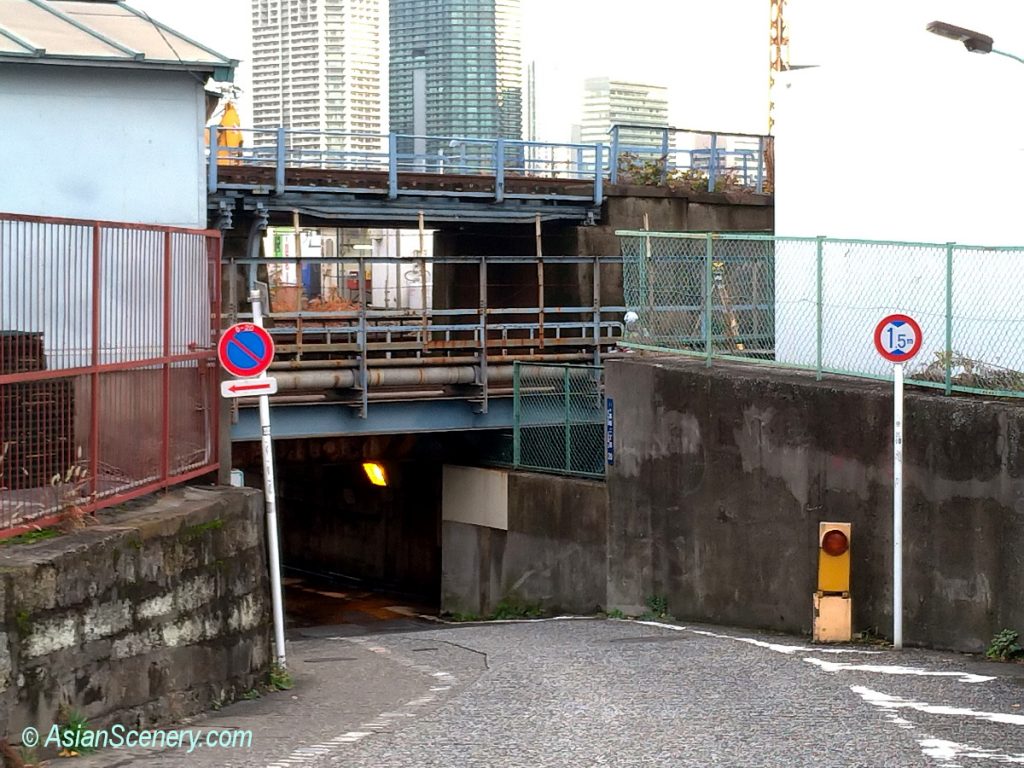 The ceiling is purely near 1.5m height almost all the way inside of the under pass. So the cars which can go through this passage are quite limited. And an adult person who is more than 5 feet tall has to crouch to walk through here.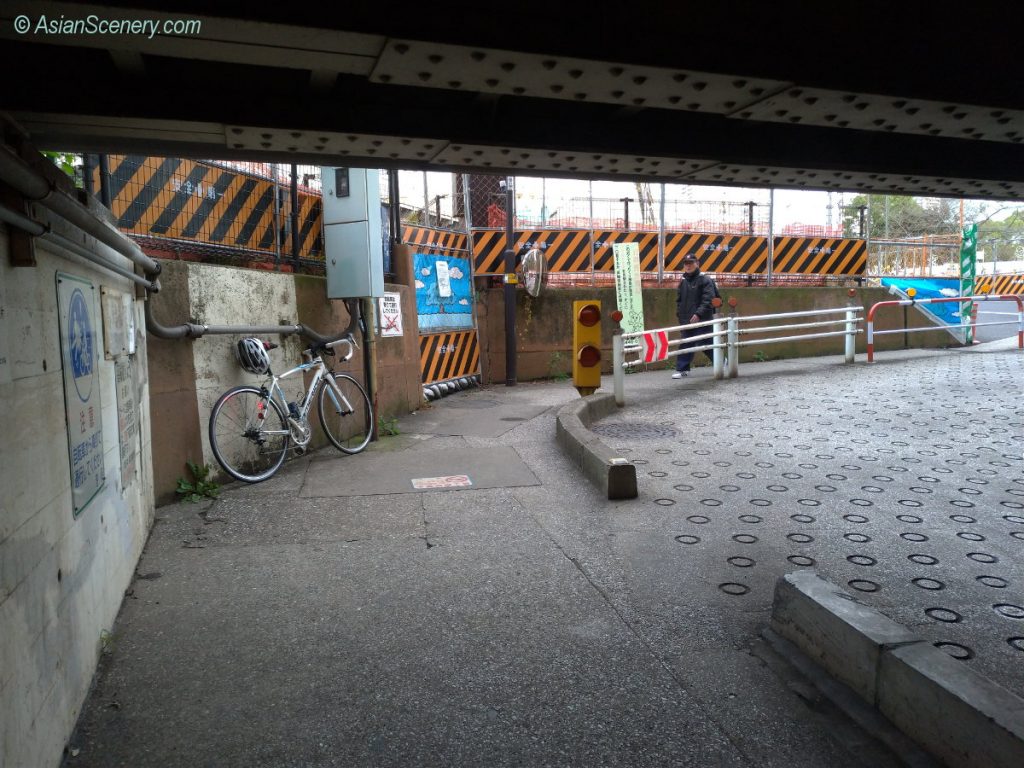 Please watch the video as I actually walked.
実際に歩いて渡ってみましたので、その動画をご覧ください。
This is not a sight seeing place, but it is really a rare and quirky spot. It is worth visiting and experiencing when you have a time to go there.
ここは特に観光名所ではありません。しかし、本当に珍しく、風変わりなスポットです。時間があれば訪れ、実際に体験してみる価値はあります。
There will be the new station "Takanawa Gateway" just beside this underpass in 2024, and we can already see the station from this place.
新駅「高輪ゲートウェイ」がこのガードのすぐ近くに開業予定(2024年)。駅舎はすでにここから見ることができます。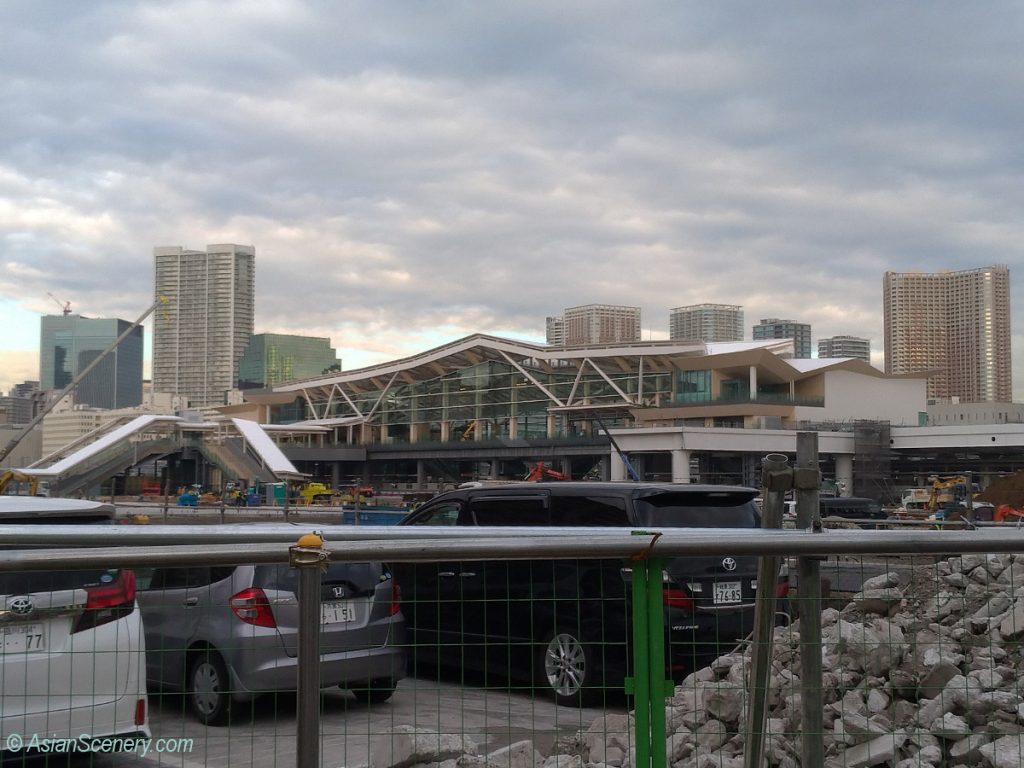 新駅開業に伴って、この地下道は一旦閉鎖され、その数年後に再建設されると聞いています。すでに周り一帯はフェンスが張り巡らされ、工事中の状況です。
This underpass will be closed with the opening of the new station, and will be rebuilt a few years later. Fences have already been set up around the area, and construction is underway.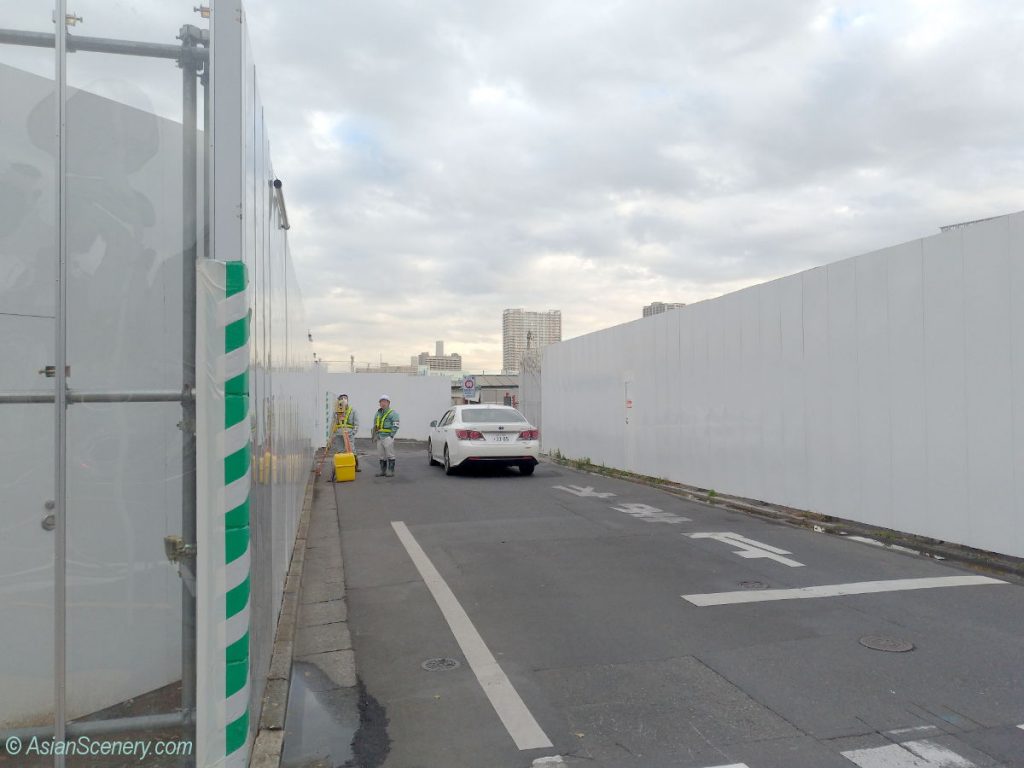 Even if this route is preserved, it is very likely that the very unusual scene and experience will be vanished after the re-construction. It is better to visit as early as possible.
このルート自体は保存されるそうですが、再構築後には、この非常に珍しいシーンが消滅し、この非日常的空間を経験できなくなる可能性が非常に高くなります。 できるだけ早く訪問することをお勧めします。