I think everyone knows "Rainbow". And there must be few who has not seen rainbow. But there may be few people who have seen a perfect half-circle rainbow that is not missing. I've never had an experience to see a perfect never-missing rainbow until this time.
「虹」を知らない人はいないでしょう。虹を見たことがない人も少ないと思います。ところが、欠けることのない半円の虹を見たことのある人は少ないのではないでしょうか。私も欠けることのない完璧な虹を見た記憶は、このときまでありませんでした。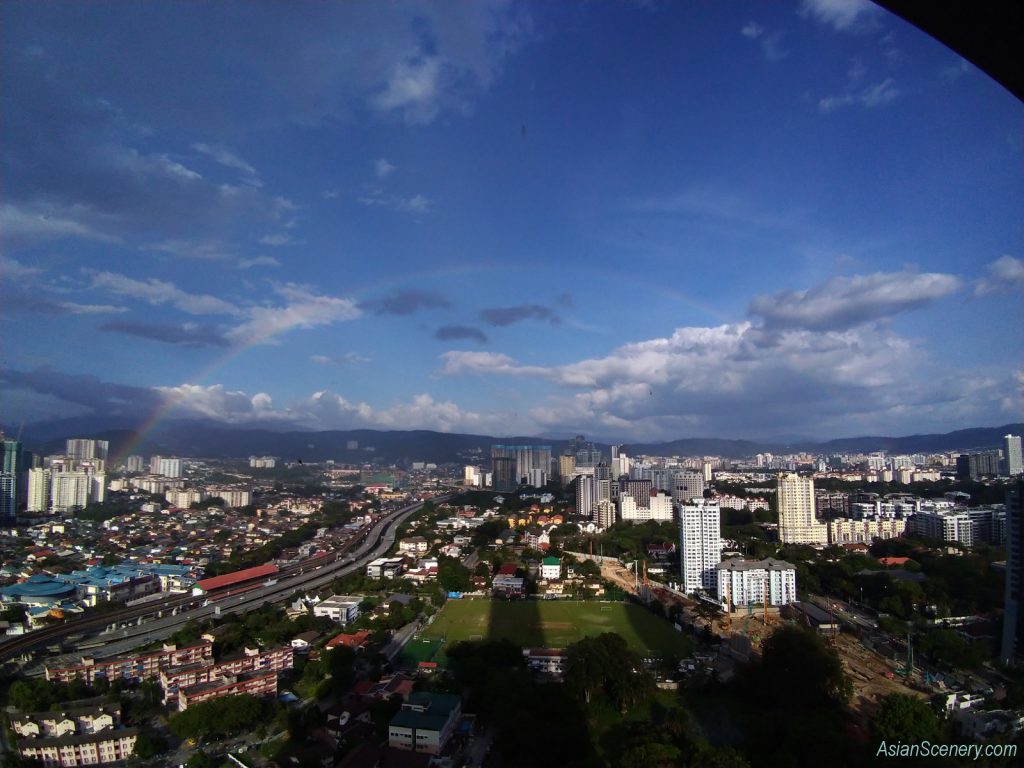 The place where I took this picture is Kuala Lumpur in Malaysia. When I look outside from the hotel room in DoubleTree by Hilton, there was a pure half rounded rainbow in the sky after a rain shower. I took many pictures before it vanishes.
この写真を撮影したのは、マレーシアのクアラルンプール。DoubleTree by Hilton というホテルの一室から夕方に外を眺めると、雨上がりの空に真ん丸の虹がかかっていました。消えないうちに何枚も写真を撮影しました。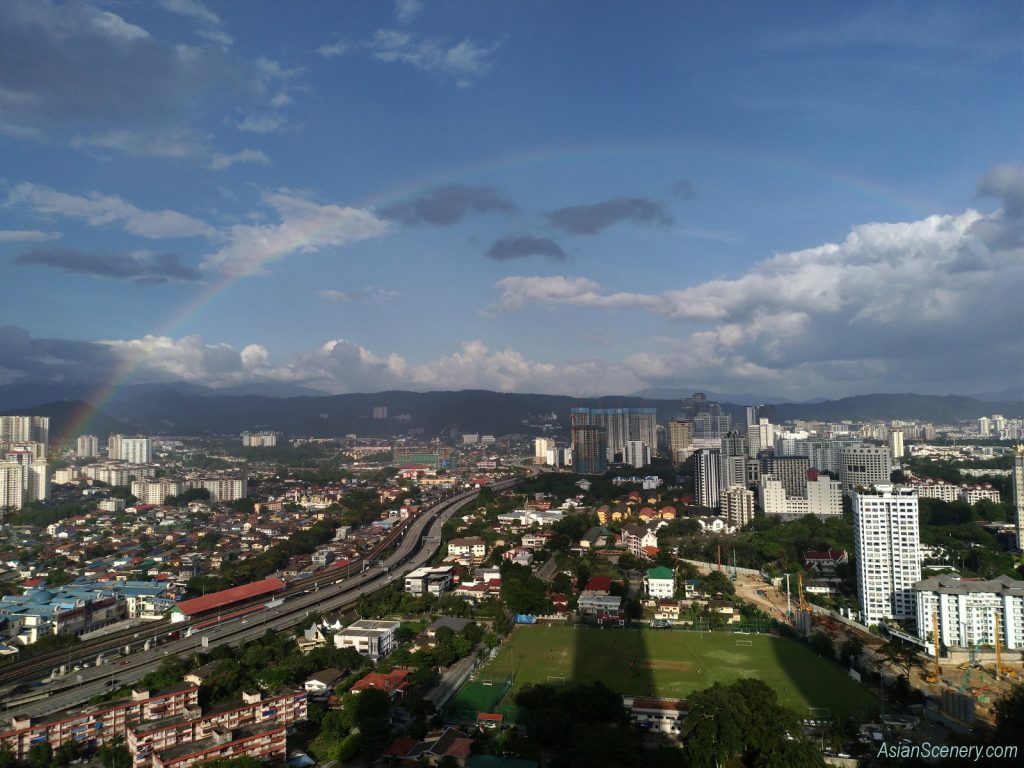 The hotel room was located on the 17th floor. I could see the beautiful rainbow without any obstructions. I observed the left edge and the right edge of the rainbow.
ホテルの部屋は17階。障害物もない理想的な環境で、きれいな虹を見下ろすことができました。虹の左端、右端がどうなっているかもよく観察しました。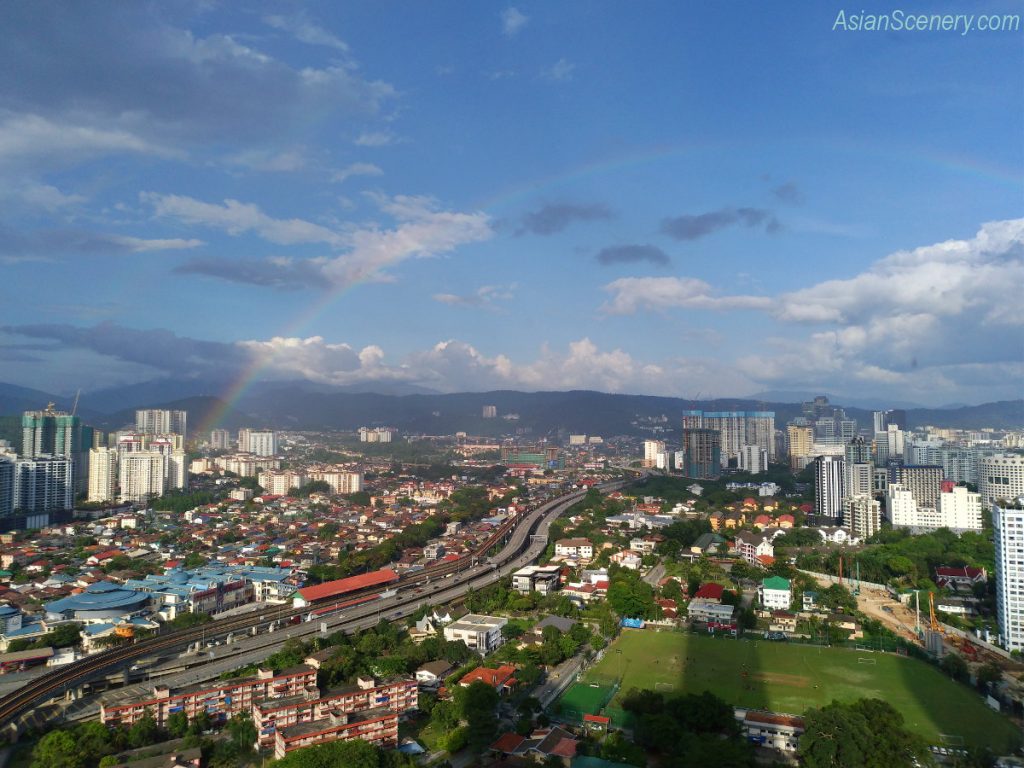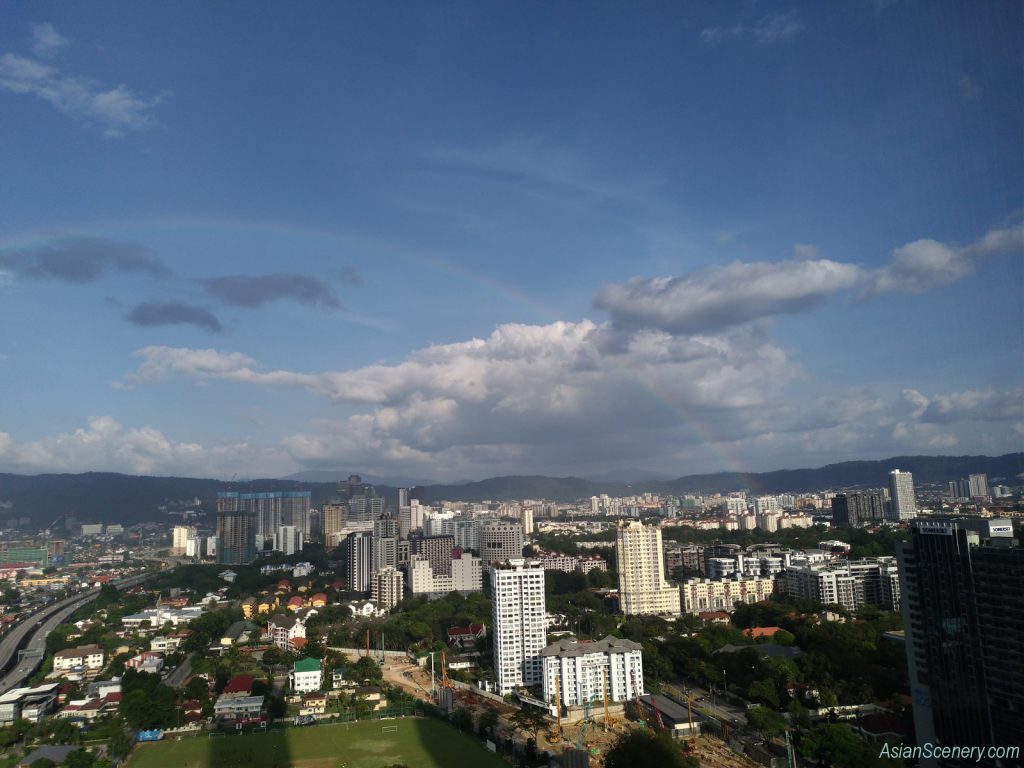 When I observe closely, the left edge of the rainbow seems to be located closer to the right edge. I was wondering if the rainbow is symmetrical to the viewer, but it doesn't seem to be the case.
つぶさに観察すると、この虹は、左側の方が、右側よりも近くに位置しているように見えます。虹は見ている人に対して対称形なのかと思い込んでいましたが、そうではないようです。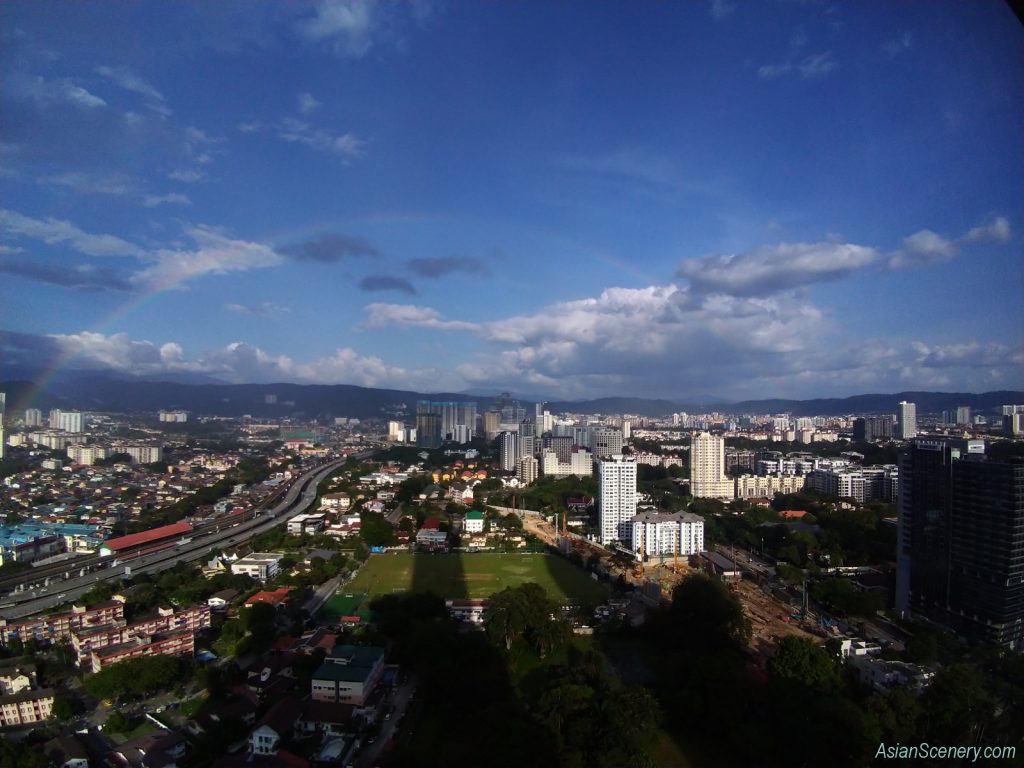 I was interested in "the contact between the rainbow and the ground" next. It should be possible to observe the contact point between the rainbow and the ground with this clear rainbow. So I took close up pictures of the left edge of the rainbow.
次に興味がわくのが「虹と地上との接点です」。このくらいくっきりした虹であれば、虹と地上との接点も確認できるはずです。左側の方が虹が近くに見えて、くっきりしているので、左側の部分をアップで撮影しました。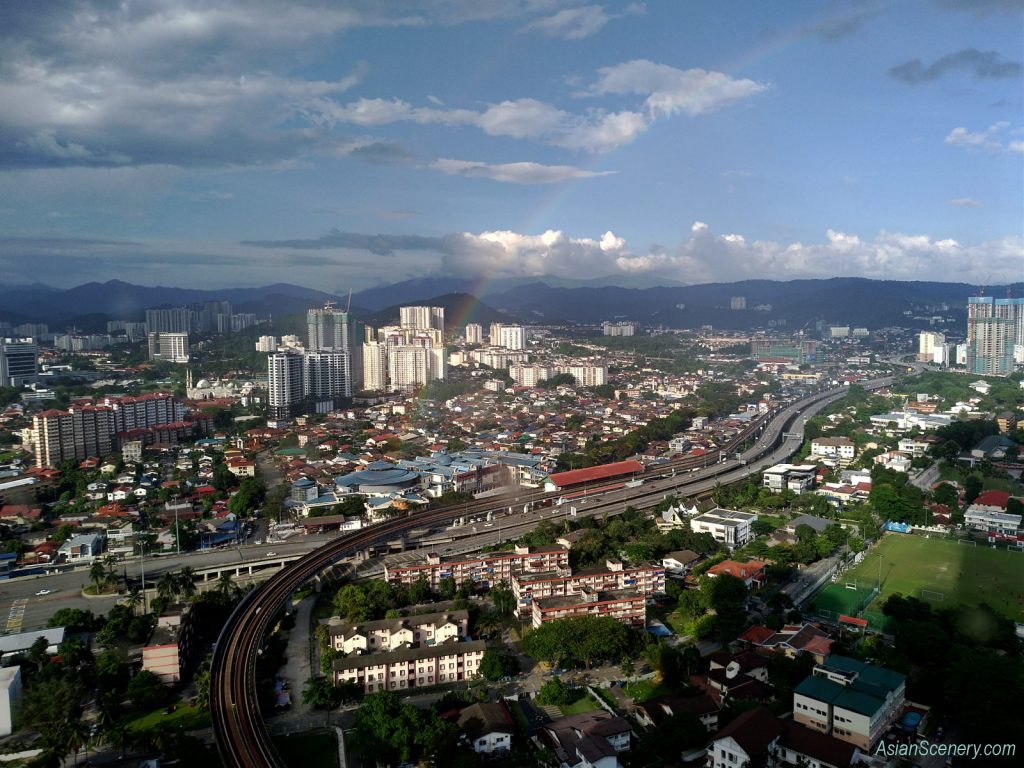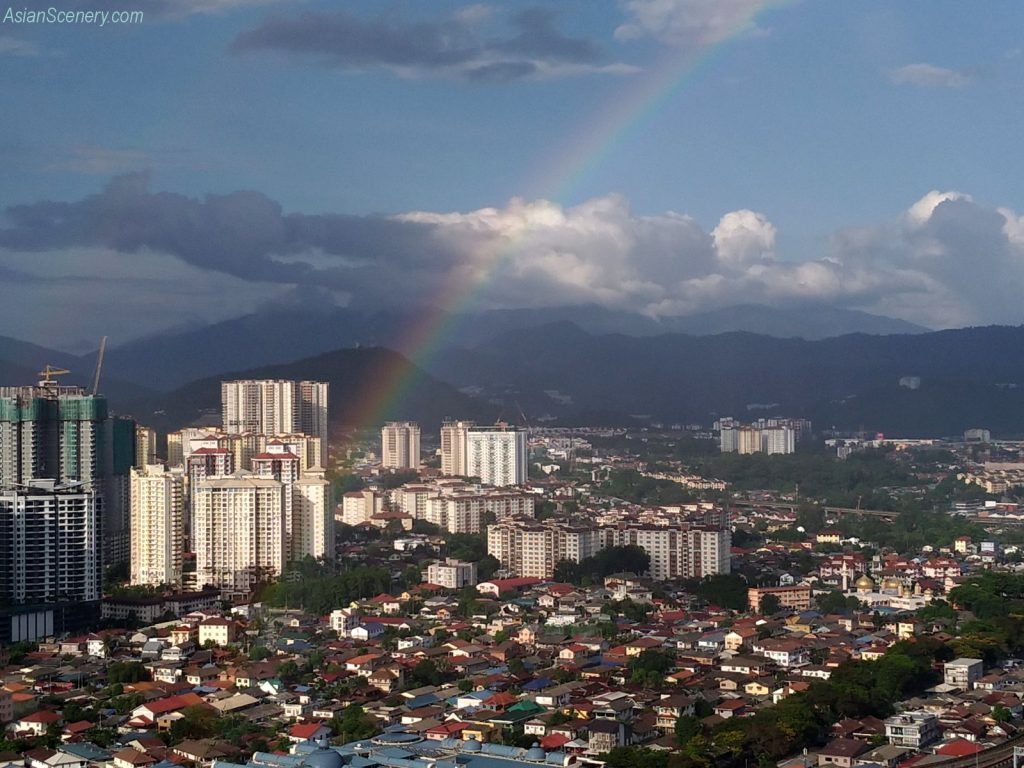 For the first time in my life, I witnessed the place where the rainbow rises.
生まれて初めて、虹が立ち上る場所を目の当たりにしました。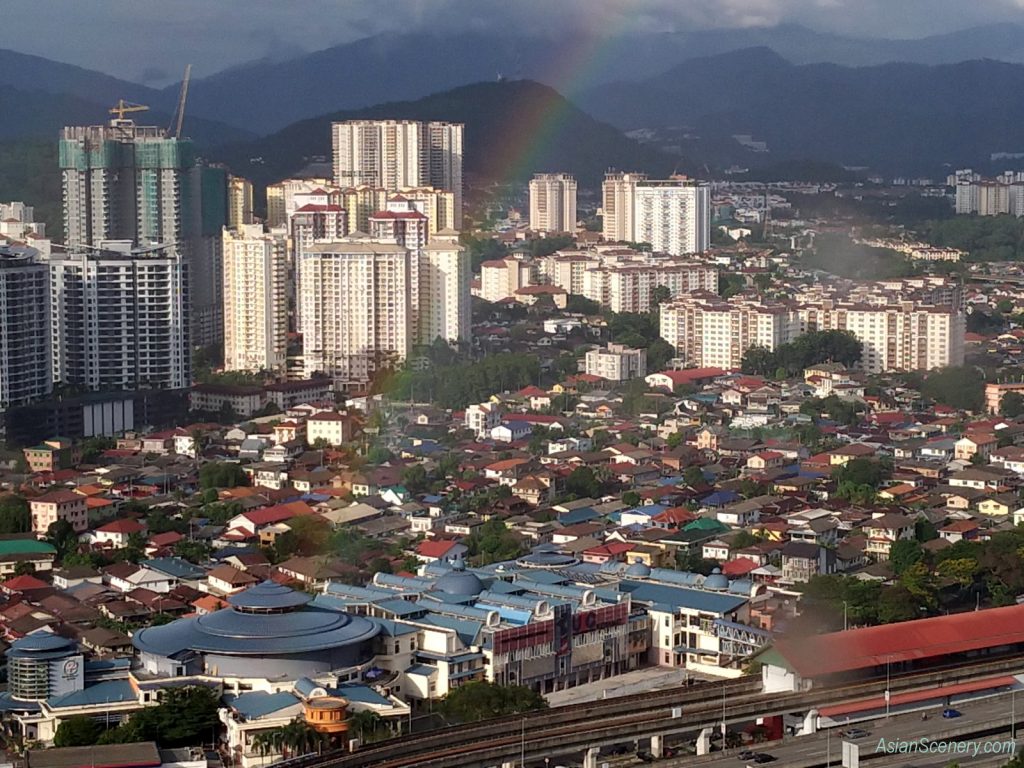 During my everyday life, I sometimes encounter "breathtaking" scenes. I will continue to look forward to meeting such fresh scenes.
日々の生活の中では、ときどき「はっとする」シーンに出会うことがあります。これからも、そのような新鮮なシーンとの出会いを楽しみにしていきます。